I was lucky enough to be able to attend the Global Leadership Summit this week.  While i was there they had a painter there and as he was introduced by Pastor Bill Hybles and the last thing he said was " prepare to be amazed"  As I began to prepare myself for amazement he begins his painting and I was anything, but amazed.  I actually began to check out.  I pulled out my phone and thought to myself "This is a good time to check my facebook"  I ran across a girls post as I hear another person in the crowd say "wow!!!!"  So I look up and still all I see is a lot of nothing, but then the artist took his painting and turn it upside down.  It was a breath taking painting of Jesus.  That's when it hit me the painting that was upside down, when turned right side up can take your life and turn it right side up!!  Let Jesus take your life!  Humble yourself before Him and what's upside down will soon be right side up!!!
It's just my allergies
I've been there,  you've been there,  your wife's best friend's husband who has muscles protruding  out of his muscles has been there. That time that something  just got you, something happened and tears began to well up and flow.  Your mind starts to race with thoughts of " What am I going to say. Am I going to tell everyone that I cried?   Or am I  going to tell them that I got emotional or am I going to play the  "it's just my allergies" card. I don't know about you but,  when my seasonal allergies are  acting up it doesn't look the same as the emotional allergies,  so why lie about it? The truth is that finding Christ helps find our emotions.  It brings an inner peace into your life knowing that what the world thinks doesn't matter, what the world sees doesn't matter! What matters is that Christ is seen through you! Did Christ never show emotion?  Is it wrong as a man to do the same?  So it wasn't your allergies,  it wasn't Earl's third degree burn wings that made your eyes well up like that.
Last night I found myself crying at church as we had back to school night for our kids. It's a night where we gather around and pray for each kid one one by one.  As it  got started and it went kid after kid after kid I found myself praying peace over all of the kids and then they begin praying for Grady they begin speaking beautiful wonderful thoughts over him! Bring wisdom, strength,  safety and friendships and a mind for Christ over him and I began to tear up and it became uncontrollable I was sobbing as I watched 50 kids and multiple adults pray for my gift,  for my child and then they finished and they moved on as did I. Gaining  my composure along came Bridger  and then came "my allergies"  again. I was overcome with emotion due to the simple fact that I know that he is getting an education in Christ he is getting the same exact prayers that they gave Grady.  They spoke compassion over him, wisdom and peace and leadership. As I looked over Bridger head faced the other direction. I just found myself praising God that he has such a tight group of friends that I had nothing else to do but weep tears of joy as my kids were given something that can never be taken from them.
 vs .
You see as I have gotten older I have began to care less and less about what the world around me says and more and more about the One who is IN me believes and knows!  My family has a relationship with Christ and that can never be taken from them!!  So the next time your "allergies" act up step back and ask yourself, do I need a claritin or is that just Christ showing through me?
 What do your Face book pictures say?
What if our facebook pictures told a story about our lives?  What if pictures had a voice?  What would they say?  Would you be happy about it?  Would you be proud of it?  It was funny, as I was loading these pictures the one about loving Jesus stayed right on the top of the page, I wasn't necessarily trying to get that picture to stay there, but it was!!  It's true!  I do Love Jesus, but do I show it, do I show it all the time?  Do I make it a priority?  Probably not, but He does find a way to stay at the top, to keep me in line, to keep me striving to be the best Christ follower, the best Husband and the best father I can be!!!  So what do my facebook pictures say?  I don't know, but I am proud of it, and I will stand on a rock and tell you about it!!  Life is amazing, live it as if it goes on for eternity, live it as if you want it to be great when our time here on earth is over!!
enjoy the pics!!!






Dear Grady
This is something I wrote a couple of years ago.  Grady will be six this year
Dear Grady,
It has been brought to my attention that you mean more to me than life itself!  I am 31 years old and have been over weight for about the last 10 years and have been told by several different doctors that I just have poor eating habits.  I've now got high blood pressure and that to is due to my weight.  My doctor has told me for years to lose 20 or 30 pounds and most of my problems will go away, but I leave his office and simply don't pay any attention to what he had to say and do just enough to stay around my 240 lb. frame.  However i've weighed as much as 275 pounds and have known full well that my weight would be the downfall of my life as a husband and a parent.
About a week ago we took you to the Doctor for your four year old check up and we walked out being told that you… my baby boy was overweight.  We were told to change your diet and limit your calories!  On the way home you and I talked and you asked me what was wrong because you thought i was healthy and you followed my diet right down to the two double cheeseburgers and a large fry with a diet coke of course….
This my son was finally the motivation I needed to change my lifestyle and I thank you for that.  All the doctors couldn't get it through my head, but a completely innocent comment by my four year old son slapped me right in the face and I am now on a mission to become the father I need to be and get in the best shape of my life so that I can see you and Bridger become the fathers that GOD has you planned to be!
It is a biblical principal to be in good shape and that is something that I need to teach you and Bridger not with talk, but with actions. Here is a prayer that Lisa (Marina's mom) wrote for our small group and it something that I am going to do my best to read everyday to keep my self strong.  Strong in body, mind and soul!
Lord we call on you for strength, grace, will power and a renewed mind about the gift of our able bodies. Lord let our eyes to be open to the temptation and ways of the enemy to keep us in a hole of unhealthy eating. Lord we want to respect the gift you have given us by putting only good things in our temple that glorify you. We want to honor you by honoring our bodies. We rebuke the enemy and all spirits of the enemy that come aginst us and try to destroy the house you dwell in. Lord help us to conquer this battle so that we may lead a long and healthy life for our children and families and to be that Christ warrior for the sake of the kingdom!
Amen!
Both of my boys mean more to me than life itself, but I apologize to you both for it taking one of you being deemed over weight for me to get my act together.  At the same time I pray that we learn from this and Break free from the enemy that is trying to keep us from what is rightfully ours… OUR HEALTH!
Just remember that when you Keep GOD first and keep Him in your life daily everything else will simply fall into place!  Dying to self is a huge thing to learn and probably the most valuable lesson in your young walk with GOD… Things are going to get tough and you will have to be ready, but do not worry thanks to you and your ability to open my eyes to get my body in shape and treat it as the temple that it is I will be here to teach you and help you with all your struggles!
I LOVE YOU      I LOVE YOU     I LOVE YOU
Please remember that I am your father before I am your friend, but I'm also your best friend so please remember that discipline is a form of love and without discipline you won't grow up and fulfill the plan that GOD has laid out for you!
I believe that you can take every scripture in the bible and use it as a learning/ teaching tool and In Isaiah 41:10 it says:  So do not fear, for I am with you;
do not be dismayed, for I am your God.
I will strengthen you and help you;
I will uphold you with my righteous right hand.
As God is always there for us I will always be there for you
DAD! !
Grady will be six this year and I am proud to say that he is healthy and his weight is under control!  Praise God!!!
Listen to me & my disciples… Not yours
In John 21:4-8 it says :  4 Early in the morning, Jesus stood on the shore, but the disciples did not realize that it was Jesus.5 He called out to them, "Friends, haven't you any fish?" "No," they answered.6 He said, "Throw your net on the right side of the boat and you will find some." When they did, they were unable to haul the net in because of the large number of fish. 7 Then the disciple whom Jesus loved said to Peter, "It is the Lord!" As soon as Simon Peter heard him say, "It is the Lord," he wrapped his outer garment around him (for he had taken it off) and jumped into the water. 8 The other disciples followed in the boat, towing the net full of fish, for they were not far from shore, about a hundred yards.
We will never know what would have happened if the disciples wouldn't have listened to Jesus that day. Would they have eventually caught some fish…. Maybe, but I'm sure it wouldn't have been near what they ended up catching as a result of listening to him.  Although they were unaware it was Jesus talking to them they stepped out and did what he said and it paid off.  Jesus was there with them just like he's there with each and every one of us today. He's as real now as he was standing on that beach. What are you trying to catch?
Do you ever find yourself standing there with your net in your hand and not catching anything, wondering where are you Jesus?  I have!  He's there, he's always there waiting patiently, waiting for us to listen and follow his direction.  Some people will say God wont give you more than you can handle. I disagree!  If we could handle it all on our own there would be no reason for Him. We would never need to call on him & we all know that with out Jesus this world is ridiculously tough!
In acts chapter 12:5-9 it says    5 So Peter was kept in prison, but the church was earnestly praying to God for him. 6 The night before Herod was to bring him to trial, Peter was sleeping between two soldiers, bound with two chains, and sentries stood guard at the entrance.7 Suddenly an angel of the Lord appeared and a light shone in the cell. He struck Peter on the side and woke him up. "Quick, get up!" he said, and the chains fell off Peter's wrists. 8 Then the angel said to him, "Put on your clothes and sandals." And Peter did so. "Wrap your cloak around you and follow me," the angel told him. 9 Peter followed him out of the prison, but he had no idea that what the angel was doing was really happening; he thought he was seeing a vision.
What if Peter stays in bed thinking to himself what the heck was in that turkey sandwich as he rolls over and goes back to sleep. He would have surely been put to death the next day. Instead he got up did what he was told and was freed from prison!  What are you needing to get freed from.  Jesus is there with the answer, the remedy, the solution to whatever it is that you need, Just stop and listen for that small still voice. Once you hear from him you'll know because He puts the answer to your question souly on your heart where there is no mistaking that its coming straight from God!
Father I pray right now that you touch every soul of every person not just the believers of your word, but even the nonbeliever that you give us the ability to not only hear you, but that when we do hear You to act on what you say and to give You all the glory
what was before John 3:16
Most everyone knows that famous verse from John 3:16.  For God so loved the world that he gave his one and only Son, that whoever believes in him shall not perish but have eternal life, but what about the verses that preceded it?  14 & 15?  Why don't they get a little more publicity! I mean John 3:16 is probably on the arms or backs of a lot of people that like to profess their faith through ink, but lets take a look at the two verses right before the aforementioned John 3:16.
Just as Moses lifted up the snake in the wilderness, so the Son of Man must be lifted up, 15 that everyone who believes may have eternal life in him."  Jesus spoke these powerful words basically laying out the events that would soon take place, yes it was God's will that he send His only Son to die on a cross for us.  However all Jesus had to do was say the word and He could have come down off the cross, stayed alive, but what would have that done for the rest of us, never the less Jesus' will wasn't done, but God's will and so he spoke.
Just as Moses lifted up the snake in the wilderness, so the Son of Man must be lifted up,15 that everyone who believes may have eternal life in him."  Meaning that He Himself must be crucified for us!  So Yes God sent His son, but even more so Jesus lived up to what God called him to do!  What has God called us to do, that by no stretch of the imagination would be a cake walk compared to what God called Jesus to do, that we stil struggle with on a daily basis?
I find myself wondering which is more important in our Christian walk.  Good Friday or Christmas?  Christmas is a celebration of our saviors birthday where we come together with family and friends and exchange gifts and remember what Christmas is really about.  Good Friday on the other hand goes by with out much more than a couple of people saying " what is good friday anyway"?  The more i read, the more I ask, the more I study, The more I have to believe that good Friday should surpass Christmas in celebration!  Imagine waking up tomorrow morning and knowing that some of your best friends would say they didn't even know you, imagine knowing you would be arrested by a group of soldiers that would take you and beat you unrecognizable and laugh at you as they had you chained up as blood dripped down every inch of your body, then if that wasn't enough they wanted to do even more damage to you!  Now imagine they give you a cross and make you carry it up a mountain side only to be nailed to it to be hung on as they watched until you die!  Now imagine that you have access to a God that could erase it all and make it all go away!
Jesus woke up one Friday morning knowing what the day would entail, knowing that He would be beaten and crucified, He knew that Peter would not stand by him in his time of need and He knew that in the end this was God's will to save the world!  In John 3:16-18 it says For God so loved the world that he gave his one and only Son, that whoever believes in him shall not perish but have eternal life.17 For God did not send his Son into the world to condemn the world, but to save the world through him.18 Whoever believes in him is not condemned, but whoever does not believe stands condemned already because they have not believed in the name of God's one and only Son.  This is why in my opinion Good Friday needs to be taken off of the back burner and brought to the forefront of Holidays!  If Good Friday doesn't happen that means Resurrection Sunday doesn't happen and we don't have direct access to pray to the One True God!
Tomorrow is Good Friday and I am not able to put it in to words the amount of gratitude I have, the sincerity in which I say I am not worthy of what God has laid in front of me and what He has given me!  We have all fallen short of the Glory of God, yet there is nothing that we can do that will make God Love us any more or any less than He already does right now and in my mind all of this puts Good Friday pretty high up on the list of Holidays that should be given some clout!
Okay so this probably isn;t an issue for a lot of people, but I am about as introverted as they come so when I go to the grocery store I try to make toilet paper the last thing I pick up and even then  I try to hide it because I don't want anyone to know that I need such a thing!  As a Christian it seems like sometimes that is how we treat Jesus!  He is vital to our life!  We thank God that we have Him and we call on him when we need him, but there is
How do you treat Jesus?
still that little piece of us who wants to keep Him hidden and let Him run in the background like the Newest 99 cent app you just bought!  Truth is that if we have Jesus in our hearts and we can testify to the miracles He has made happen in our lives why would we put Him on the bottom rack of the grocery cart and change the subject instead of telling people about all the messes He's cleaned up in our lives!!
Are Whole Eggs or Egg Whites Better for You?
by Mike Geary, Certified Nutrition Specialist, Certified Personal Trainer
Author – The Truth About 6-Pack Abs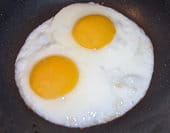 I was on a weekend trip with some friends recently and one of my friends was cooking breakfast for the whole group. I went over to see what he was cooking and saw he was getting ready to make a big batch of eggs.
Well, to my shock and horror, I noticed that he was cracking the eggs open and screening the egg whites into a bowl and throwing out the egg yolks. I asked him why the heck he was throwing out the egg yolks, and he replied something like this…
"because I thought the egg yolks were terrible for you…that's where all the nasty fat and cholesterol is".
And I replied something along the lines of… "you mean that's where all of the nutrition is!"
This is a perfect example of how confused most people are about nutrition. In a world full of misinformation about nutrition, somehow most people now mistakenly think that the egg yolk is the worst part of the egg, when in fact, theYOLK IS THE HEALTHIEST PART OF THE EGG!  It's a shame at how many restaurants you can walk into these days and see that the "healthy" breakfast menu always has egg white items instead of whole eggs.  Are we really still in the "fat-phobic" 80's?
By throwing out the yolk and only eating egg whites, you're essentially throwing out the most nutrient dense, antioxidant-rich, vitamin and mineral loaded portion of the egg. The yolks contain so many B-vitamins, trace minerals, vitamin A, folate, choline, lutein, and other powerful nutrients… it's not even worth trying to list them all.
In fact, the egg whites are almost devoid of nutrition compared to the yolks.
Even the protein in egg whites isn't as powerful without the yolks to balance out the amino acid profile and make the protein more bio-available. Not to even mention that the egg yolks from free range chickens are loaded with healthy omega-3 fatty acids.
Yolks contain more than 90% of the calcium, iron, phosphorus, zinc, thiamin, B6, folate, and B12, and panthothenic acid of the egg. In addition, the yolks contain ALL of the fat soluble vitamins A, D, E, and K in the egg, as well as ALL of the essential fatty acids (EFAs).
And now the common objection I get all the time when I say that the yolks are the most nutritious part of the egg…
"But I heard that whole eggs will skyrocket my cholesterol through the roof"
No, this is FALSE!
First of all, when you eat a food that contains a high amount of dietary cholesterol such as eggs, your body down-regulates it's internal production of cholesterol to balance things out.
On the other hand, if you don't eat enough cholesterol, your body simply produces more since cholesterol has dozens of important vital functions in the body.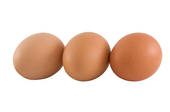 And here's where it gets even more interesting…
There have been plenty of studies lately that indicate that eating whole eggs actually raises your good HDL cholesterol to a higher degree than LDL cholesterol, thereby improving your overall cholesterol ratio and blood chemistry.
And 3rd… high cholesterol is NOT a disease!  Heart disease is a disease…but high cholesterol is NOT.  Cholesterol is actually a VERY important substance in your body and has vitally important functions… it is DEAD WRONG to try to "lower your cholesterol" just because of pharmaceutical companies propaganda that everyone on the planet should be on statin drugs.
If you're interested in this topic of cholesterol specifically, I have another article listed at the bottom of this page about why trying to attack cholesterol is a mistake, and what the REAL deadly risk factors actually are.
In addition, the yolks contain the antioxidant lutein as well as other antioxidants which can help protect you from inflammation within your body (the REAL culprit in heart disease, not dietary cholesterol!), giving yet another reason why the yolks are actually GOOD for you, and not detrimental.
To help bring even more proof that whole eggs are better for you than egg whites, I recently read a University of Connecticut study that showed that a group of men in the study that ate 3 eggs per day for 12 weeks while on a reduced carb, higher fat diet increased their HDL good cholesterol by 20%, while their LDL bad cholesterol stayed the same during the study.  However, the group that ate egg substitutes (egg whites) saw no change in either and did not see the improvement in good cholesterol (remember that higher HDL levels are associated with lower risk of heart disease) that the whole egg eaters did.
So I hope we've established that whole eggs are not some evil food that will wreck your body… instead whole eggs are FAR superior to egg whites.
But what about the extra calories in the yolks?
This is actually a non-issue and here's why… even though egg yolks contain more calories than just eating the egg whites, the yolks have such a high micro-nutrient density in those calories, that it increases your overall nutrient density per calorie you consume.  Essentially, what this does is help to regulate your appetite for the remainder of the day, so you end up eating less calories overall.  In addition, the healthy fats in the egg yolks help to maintain a good level of fat-burning hormones in your body.
Overall, this means that the extra fats (healthy fats) and calories from the yolk are so nutrient-dense that they actually HELP you to burn off body fat!
Also, your normal supermarket eggs coming from mass factory farming just don't compare nutritionally with organic free range eggs from healthy chickens that are allowed to roam freely and eat a more natural diet.  Your typical cheap grocery store eggs will have lower nutrient levels and a higher omega-6 level and lower omega-3 level.  On the other hand, the cage-free organic eggs from healthier chickens allowed to eat more natural feed and roam freely will have much higher vitamin and mineral levels and a more balanced healthier omega-3 to omega-6 fatty acid ratio.
I recently compared eggs I bought at the grocery store with a batch of eggs I got at a farm stand where the chickens were free roaming and healthy.
Most people don't realize that there's a major difference because they've never bought real eggs from healthy chickens… The eggs from the grocery store had pale yellow yolks and thin weak shells. On the other hand, the healthier free range eggs from the local farm had strong thick shells and deep orange colored yolks indicating much higher nutrition levels and carotenoids… and just a healthier egg in general.
This is due to the fact that a free-roaming hen allowed to roam on plenty of land will eat a variety of greens, insects, worms, etc transferring MUCH higher levels of nutrients to the eggs compared to an unhealthy hen that is trapped inside a dark factory farm hen house in horrible conditions and fed nothing but piles of corn and soy.  It's a DRASTIC difference in the nutrition that you get from the egg.
So next time a health or fitness professional tells you that egg whites are superior (because of their "fat-phobic" mentality towards dietary fats), you can quietly ignore their advice knowing that you now understand the REAL deal about egg yolks.
And can we all please STOP with this sillyness about eating an omelete with 4-5 egg whites and only 1 egg yolk… If you want real taste and real health benefits, we'd all be better off eating ALL of our eggs with the delicious nutrient-dense yolks.
After all, do you REALLY think that our ancestors thousands of years ago threw out the yolks and only ate the egg whites?  NOT A CHANCE!  They intuitively knew that all of the nutrition was found in the yolks.  But our modern society has been brainwashed with misinformation about fats and cholesterol.
Another interesting study about eggs…
I read a study recently that compared groups of people that ate egg breakfasts vs groups of people that ate cereal or bagel-based breakfasts.  The results of the study showed that the egg eaters lost or maintained a healthier bodyweight, while the cereal/bagel eaters gained weight.
It was hypothesized that the egg eaters actually ate less calories during the remainder of the day because their appetite was more satisfied compared to the cereal/bagel eaters who would have been more prone to wild blood sugar swings and food cravings.
Oh, one last thing I almost forgot… I personally eat 4 whole eggs almost every day with breakfast, and I maintain single-digit bodyfat most of the year.
Enjoy your eggs and get a leaner body!
If you liked this article, please share it with your friends below:
A friendly FYI from our friends at P90 X